Rita Ora presents a preview of the new collection of enamels Colourfest, license plate Rimmel, a burst of bright colors and pastels for nails in tune with the new season.
Rita Ora for Rimmel
Rita Ora, the famous British singer and actress, has a new collection of enamels signed Rimmel, the Colourfest Collection: an explosion of colors designed for spring / summer 2015. The collection features mostly bright colors like fuchsia Neon Fest and green lawn Roll in the grass but there are more muted colors and pastels such as light pink Sweet Retreat or fishing Peachella. The intent is to get super colorful nails that best express the joy for the arrival of summer, after dark and long, almost interminable winter.
New colors are added to the existing line 60 Seconds, the famous Rimmel line dedicated to enamels that promise super quick drying, 60 seconds exactly, and long-lasting.
La Colourfest Collection
The Colourfest Collection is mainly composed of 12 shades, 6 most heated and summer and 6 pastel, decidedly spring. Rita has seen fit to satisfy the tastes of all, young and adult, pointing to the liveliness and freshness that they bring with them new colors. Those who prefer to use bright colors like Glastonberry, bright red, or Tangerine Tent, a tangerine-colored, is an absolute eye. Those who prefer softer shades will point to the choice of this lavender in range, Go Wilderness, or a classic taupe-colored, always elegant and perfect for all seasons: Rain Rain Go Away.
The new colors allow you to play and have fun with their nails, using for example, two of the twelve tones ( Sweet Retreat and Neon Fest ) you can create an accent nail colorful and cheerful, even if you are not expert of nail art.
Even the packaging is the full mood of spring, characterized by the black cap with daisies that vary depending on the chosen color. Finally, Rita Ora signature collection on each color cap.
60 Seconds Super Shine: New long-lasting Formula
The new formulation of enamels 60 Seconds Super Shine is renewed: the 3-in-1 allows the enamel to lie down easily (thanks to maxi applicator), dry in just 60 seconds with a top coat effect, with a full result and long-lasting (up to 10 days). For those who have no patience to wait for it to dry the polish or did not want to follow the traditional step -based enamel top coat , the new formula is definitely ideal. The result on the nails will feature a full-color and high gloss, with one pass.
The recommended price is € 4.90.
Gallery
Rimmel Rita Ora Nail Polish Set
Source: nail.ftempo.com
Rimmel 60 Seconds Nail Polish
Source: www.feelunique.com
Rita Ora for Rimmel 60 Seconds Nail Polish Review …
Source: www.reallyree.com
manicure for over 60 rimmel london 60 seconds nail polish …
Source: www.hairstylegalleries.com
Ditta's nail design & art : Rimmel London
Source: dittanail.blogspot.com
Rita Ora for Rimmel London 60 Seconds Nail Polish …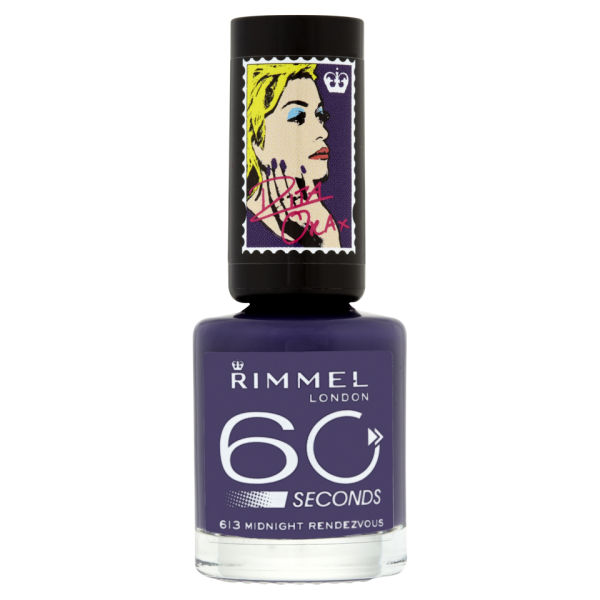 Source: www.lookfantastic.com
Hair • Nails • Etc
Source: www.hairnailsetc.com
New In: Rimmel Shades of Black Collection by Rita Ora …
Source: www.territalks.co.uk
Get London's Rocker Look Now With The Rita Ora 60 Seconds …
Source: www.advfn.com
Get London's Rocker Look Now With Rita Ora for Rimmel …
Source: www.fashionwindows.net
Rimmel London 2014 Rita Ora Collection
Source: thepolishedpursuit.com
Beauty Collab: Rita Ora x Rimmel London Beauty Collection …
Source: www.lovebscott.com
Rimmel 60 Seconds by Rita Ora Chameleon Colour Collection
Source: belleviefashion.nl
RITA ORA ROCKING: a kimono-inspired jacket dress.
Source: mwafrika-nywele.blogspot.com
Colour your life: Alphabet nail art challenge
Source: andicolouryourlife.blogspot.com
Un angelo caduto: MY GREY COLLECTION
Source: blogdiunangelocaduto.blogspot.com
How to: Festival-ready Glitter Nails
Source: www.superdrug.com
piCture pOlish – Starry Night & Stamping festif
Source: didolines-nails.com
Nail art de Printemps !
Source: didolines-nails.com
Rimmel Rita Ora Nail Polish Set
Source: nail.ftempo.com